Hippo Manager's Problem List feature allows you to record patient diagnoses within the patient record.
Locating the Problems List
1. Select the Patient screen, and then locate the Problems list as either a quick link or an open widget.
Important Note: A feature can be assigned as a quick link or open widget according to a user's preference, and for more information, check out Patient Dashboard: Using and Customizing Quick Links to Optimize Workflow.
Logging a Problem
1. From the Problems screen, select the (+) to log a new patient diagnosis/problem.
2. A list of pre-loaded conditions and procedures is available to choose from.
3. Once you've selected the appropriate condition or procedure from the list, assign a start/end date for this condition and include any related chart note if applicable.
4. Select Apply when ready to save and log this problem. Once saved, it will display within the Assigned Problem Codes list below.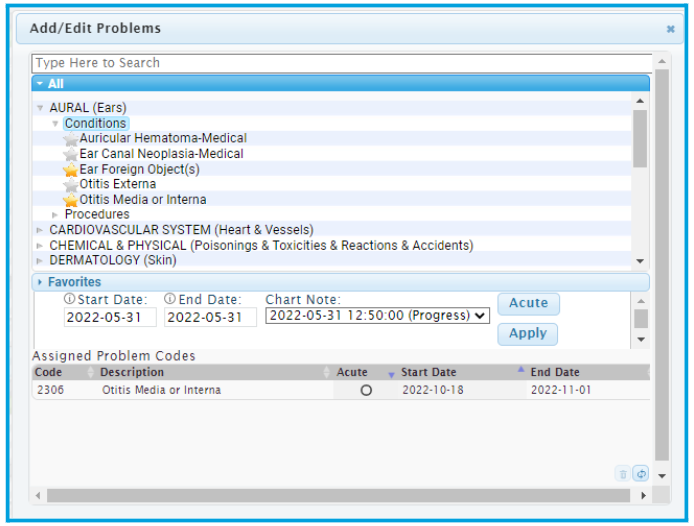 Pro Tip: For frequently used conditions and/or procedures, select the Star icon to the left of the line item to add it to your Favorites List!
Helpful Tip
If you wish to have conditions and/or procedures added to the list, our support team can add them to your platform. For more information on how to reach Hippo Manager's support team, check out Contact: Customer Support.