The Help Center is your one-stop shop for information regarding Hippo Manager's available features. Our Support team can also be contacted through this resource, so it's the perfect place to start with your questions! The Help Center can be accessed through your platform by selecting Help Center in the menu along the left side of your screen. Alternatively, the Help Center can also be visited using https://help.hippomanager.com/hc/en-us
The Search section at the top of the page can be used to find how-to articles by topic or keyword. Example: If "Dymo" is typed into the Search field, the system will find all articles related to setup, using, and troubleshooting Hippo Manager's connection to a Dymo Label Printer.

The Folders displayed below the Search field, house how-to articles related to the specific folder category. Example: The Integration Partners folder will house how-to articles related to setup, and usage for Hippo Manager's available partners.

The Promoted Articles section displayed below the category folders, will house how-to articles for all new features that are included in the latest release. Example: If our latest release has new features available in the Scheduler, all related articles for this new feature will be available in this section to learn more!

The Recent Activity section displayed below the Promoted Articles will display a user's history of recently viewed articles.
Helpful Tip:
The Help Center also houses a shortcut to contacting Hippo Manager's support team should you need extra assistance. Select the Support button in the lower right corner of the page, and this will enter you into the live chat.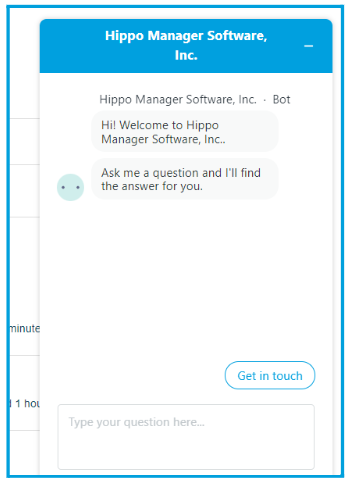 For more information on other ways of contacting Hippo Manager's Support team, check out Contact: Customer Support.
Hippo Manager also offers additional training resources through the Online Learning Center. For more information, check out Hippo Manager Online Learning Center Guide.