The practice can include a custom message that appears on one or all invoice receipts after the client's payment has been processed. Some messages may include appointment or procedure reminders, holiday hours, practice slogans, return policies, etc.
Adding a Note to an Individual Invoice
1. Select Checkout from the menu along the left side of the screen to access the patient's invoice.
2. Find the text field labeled Comments, and type the note that you wish to include on the client's receipt.
3. Select the Show on Receipt toggle to include this message on the client's copy of the receipt.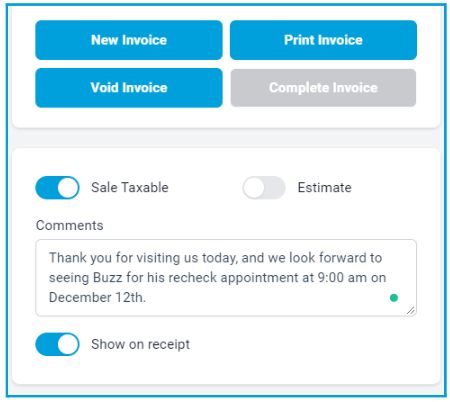 Important Note: For more information on features relating to the Checkout screen, check out Checkout: Register Breakdown.
Adding a Note to All Invoices
If you wish to have a message included on all client receipts, Hippo Manager's dedicated Support team will be happy to add the desired message to your platform upon request! Contact: Customer Support.