Hippo Manager offers integration with Clearent terminals to support and streamline payment capture and end-of-day reconciliation. If you are using a wireless terminal that connects to Wi-Fi, check out Tech Tip: Connecting Your Clearent Terminal to Wi-Fi.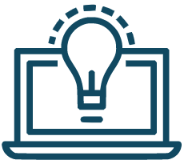 Resetting Terminal Password
1. Once the terminal screen is on, select the icon with 3 bars in the lower-left corner of the screen to display more options.
4. From this menu, select Utility. The terminal is password protected, and in most cases, the default password is 1234.
5. Once your password is accepted, select Security, and then select Edit Password.
6. Type the current password, and then select the Green button to save.
7. Type the new password, and then select the Green button. Repeat this step once more to confirm the new password.