Hippo Manager offers integrations with Talkatoo and Dragon to support capturing chart note documentation by voice through their services.
1. Both Talkatoo & Dragon offer services that store directly on your device. Once you open your Hippo Manager platform, they are available to use within any text field automatically!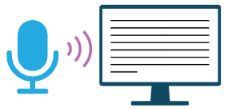 Helpful Tip:
Hippo Manager also offers customizable Chart Templates to cut down on documentation time during appointments as well. For more information, check out Management: Creating and Editing Chart Templates & Choose Action: Using Chart Templates.