Utilizing Hippo's Appointment widget will save time when searching for a patient's past and future visits.
How to view a patient's appointment history:
You can view a patient's appointment history from three different pages in Hippo by utilizing the Quick Links on the Patient Screen, the Chart Note page, and the Scheduler page.
From the Patient Screen, click Settings from the quick link options at the top of the page.
You will see a

Widget Settings

window open with three columns: Widgets, QuickLinks, and Unused.
Find the Appointments option, then drag and drop the option to the view you wish to enable.
Click Ok, once you have finished making changes.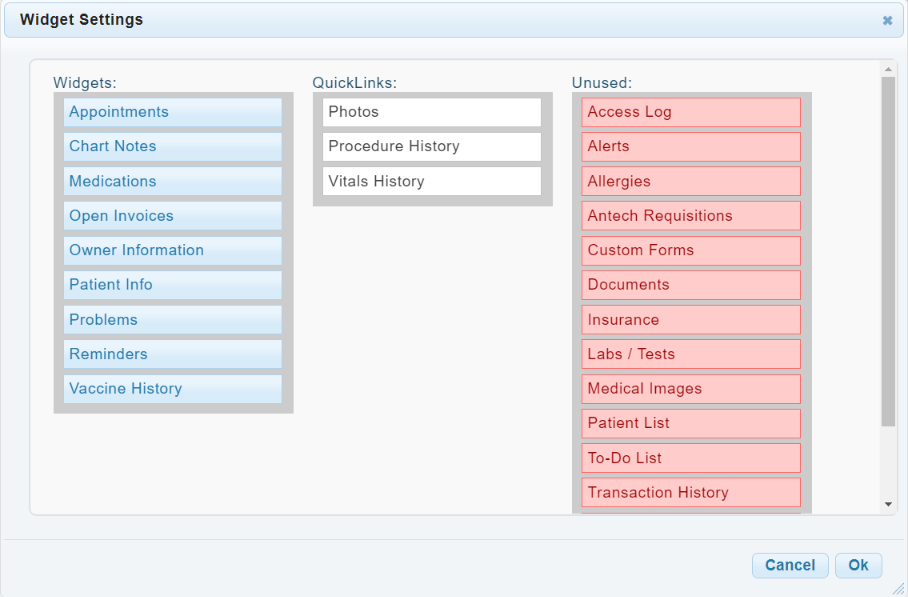 Helpful Hint:
The Widget view will provide the most comprehensive at-a-glance view of the patient's history. However, you can also add Appointments to the Quick Links column to have the option available as a white tab at the top of the patient screen.
Quick Link settings operate the same way on both the Chart Note page and the Scheduler page. However, the quick links will only appear after you have clicked the small blue pushpin button located at the bottom left corner of either page.