The checklist below outlines the recommended steps that are most important when scheduling an appointment in your Hippo Manager platform.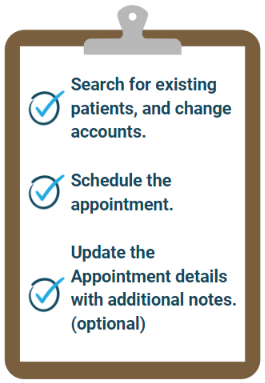 Search for Existing Accounts
Before scheduling an appointment, it's important to change patient accounts to ensure the appropriate patient is being scheduled.
Important Note: If you are searching for a patient that does not yet exist in your system, it's recommended to check out Checklist: Adding a New Patient and/or Choose Action: Creating a New Patient Account.
Schedule an Appointment
Once the appropriate patient is actively displayed in the Patient Reserve, you can then review scheduled appointments or book a new appointment.
Scheduler: Patient Appointment History
Scheduler: Customization 5 of 5 (Scheduling an Appointment)
Update Appointment Details
After the appointment has been scheduled, you can alter details and add additional information such as preferred Veterinarian or visit reason by selecting the appointment itself. When finished, don't forget to select Ok to save changes.