The Online Learning Center is your one-stop shop for training videos, simulations, skill sharpeners, games, Knowledge Checks, and Assessments. For more information, check out Hippo Manager Online Learning Center Guide.
Users with Team Leader access can view training activity for all employees assigned to their team.
Important Note: If you need Team Leader access added to your Online Learning Center account, our dedicated training team can be reached by email, using training@hippomanager.com. Please include the following information:
Your Practice Name, and/or custom practice URL.

Your Name (First/Last), Email Address, and Role
Viewing Employee Progress
At login, you will see your Team Dashboard. If you are assigned to more than one team, you can use the You are viewing the team dropdown to access alternate team views.
As you scroll down the page, you will have access to high-level overviews of your team's progress. For a more detailed view of your team's training status, select the Active Users button in the upper right corner of the page.

This will populate a list of all active members of your team and an overview of their training activity. You can select an individual learner's name to view their specific progress in greater detail.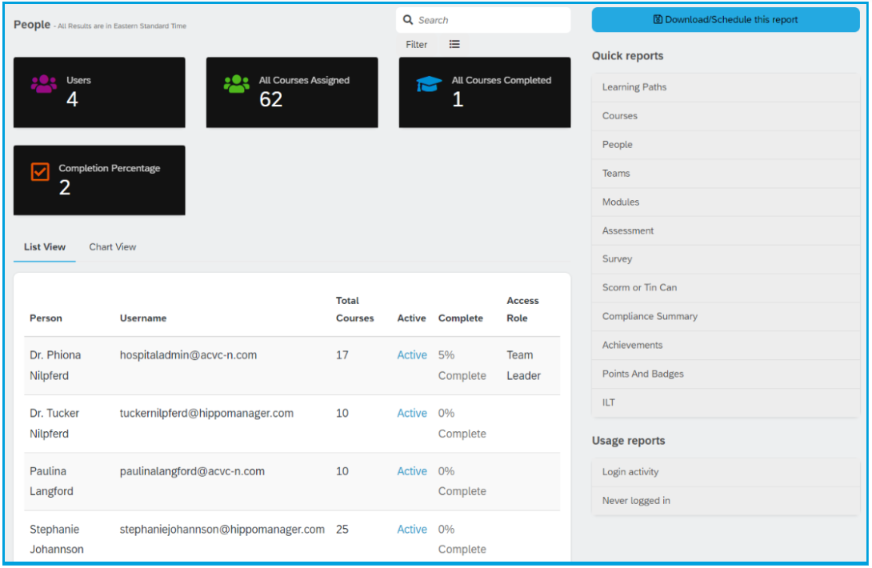 Helpful Tip:
You may also find the following articles beneficial:
Checklist: New Employee Onboarding
Checklist: Employee Offboarding
Hippo Manager Online Learning Center: Tracking Your Training Progress