Once you have signed your agreement with Clearent, you will receive your terminal(s) by mail. Use the checklist below to make sure your terminal(s) are ready to process payments.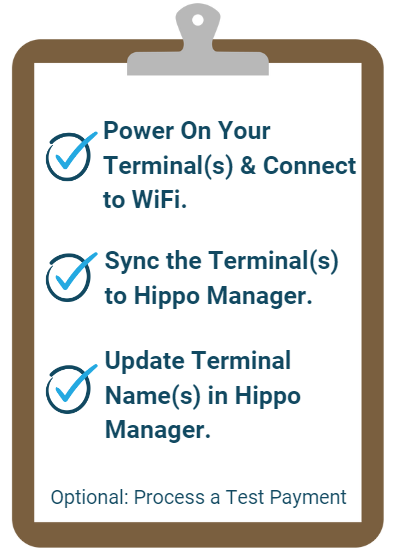 Power On Your Terminal(s)
After you've plugged your terminals into a power source, you will need to connect the terminal(s) to WiFi. For guidance on this step, check out Tech Tip: Connecting Your Clearent Terminal to Wi-Fi.
Sync the Terminal(s) to Hippo Manager
Important Step: Once the terminals have been powered on, and connected to WiFi, contact Hippo Manager Support to sync the terminal(s) to your Hippo Manager platform. For more information about contacting our Customer Support team, check out Contact: Customer Support.
Update Terminal Name(s) in Hippo Manager
Team members with the Office Manager access level can change the name of the Clearent terminal(s) as needed from the Management screen, within the Payment Platforms icon.
Pro Tip: If desired, you can run a test payment to ensure that your Clearent terminal is ready to process payments.
Helpful Tips:
If you encounter any unexpected behavior after you've followed the steps above, check out Tech Tip: Troubleshooting Your Clearent Terminal Connection. For further assistance, please contact our Customer Support Team.