The Hippo Manager Patient Health Records (PHR) Portal gives practices the ability to grant their clients access to information stored on their platform, such as chart notes, appointments, and lab results.


*Important Note: Any duplicate clients/duplicate emails could present problems for your clients when they attempt to log in to the portal. In the Management tab, there is a Client Duplicate List. If you click on it, the bottom of the report will display all duplicate email addresses.
Duplicate email accounts do not prevent your ability to enable and use the PHR portal. However, the clients who own the duplicate email accounts will not be able to access the portal until the duplicate email is removed. Please contact support if you need assistance removing a duplicate email address. You can also check out this article on editing client information.


How to Activate the Patient Health Records (PHR) Portal in Hippo Manager:
Go to the Management tab.
Click the Setup PHR icon.
Click Ok.

Hippo Manager support will be automatically notified of your request to set up the PHR and provide confirmation once your custom PHR URL is ready. Expect his confirmation within 48 hours of your initial request.
How to use the Patient Health Records (PHR) Portal for the first time:
You control what clients/patients can and cannot utilize in your practice's PHR Portal. The steps below will walk through this process, as well as explain how clients can begin to take advantage of the service.
Ensure that the Enroll PHR field is set to Yes in Patient Info for patients/clients you would like to be able to use the portal. Check out this article on editing Patient Info if you need help with this process.
If you go to the Reports tab, click Client Forms, then click PHR Information Sheet, you will find a flyer customized to your practice, containing the URL of the patient portal, and first time use instructions for your clients. Feel free to download and email it to them, or print it out for distribution if you would like.
When visiting the URL, clients will be prompted to enter their Email Address and Password.
First time users will need to click Create New Account.

They will then be prompted to enter the same email address they gave to your practice, which is why it is important that all emails are unique, otherwise clients may not be able to create an account.

An email will be sent to the address,

info@hippomanager.com

.

Open the email, and click the link inside. Check your spam folder if you cannot find the email.

Create and confirm a password for the portal.

At this point, clients can return to the login screen, and enter their newly made information to access the portal.
There is also a PHR Access Control toggle in the Practice Config page. If you switch this to Off it will disable PHR access for all clients. It can be enabled again by switching the toggle to On at any time.
Breaking down the PHR Portal:
There is a variety of information your clients will be able to access from the PHR Portal, reference the screenshot and list below for more information.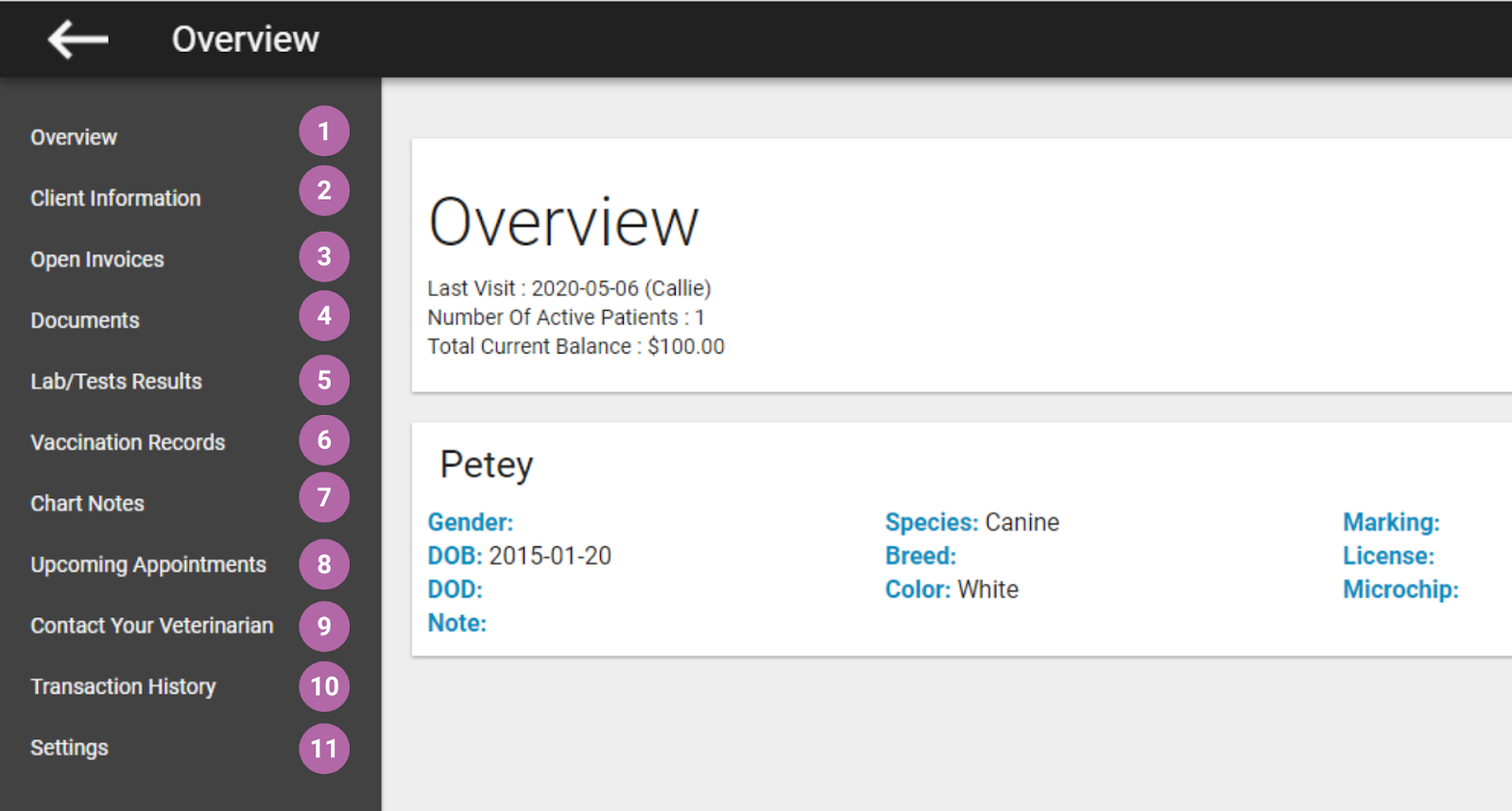 Overview: A list of active patients and patient info. Anything in the Notes field on the patient record will be visible here to clients. Information that should not be visible should be under Alerts, or the patient should not have access to the PHR Portal.
Client Information: The client's contact information from Hippo Manager.
Open Invoices: Invoices with open balances. They can be viewed, downloaded, and/or printed.
Documents: Any documents in the Documents widget. They can be viewed, downloaded, and/or printed.
Lab/Test Results: Any lab or test results in the the Labs/Tests widget. They can be viewed, downloaded, and/or printed.
Vaccination Records: All vaccine certificates in the Vaccines widget. They can be viewed, downloaded, and/or printed.
Chart Notes: Any SIGNED chart notes from the Charts widget. They can be viewed, downloaded, and/or printed. Unsigned charts will not be accessible.
Upcoming Appointments: Upcoming appointments on the Scheduler. View only access.
Contact Your Veterinarian: Your practice's contact information from the Practice Config widget.
Transaction History: All of the client's receipts from the Transaction History widget. They can be viewed, downloaded, and/or printed.
Settings: Change email address and/or password.
When in options 4-10, clients can toggle between their pets with the drop-down menu that will be found in the top right corner of the screen when applicable.
Helpful Hint:
Activating the PHR is FREE and it's a great way to give your clients access to their pet's information when they need to give vaccine records to boarding, grooming, or day care facilities...so you don't have to spend time doing it for them!