Hippo Manager's medication templates are a time-saving tool that can be used to streamline the documentation process for medication instructions during dispensation.
1. From either Choose Action, Scheduler, Patient Dashboard, or Chart Note, select the Medications icon or quick link, and then select the (+) in the upper right corner of the widget to create a new entry.
3. After you've selected the medication and entered the appropriate details, select the template from the Note Template drop-down list that relates to the medication you are dispensing. For example heartworm prevention template for heartworm medication vs a tapering dose template for steroid medication.
4. Once the template is displayed, follow the tags (prompts). Type the numbers and/or letters into the text field below, then select Ok to replace the orange text, and advance to the next tag (prompt). In the example image below, this medication is being dispensed for a 35 lb dog. Rather than typing the entire set of instructions, the templates do most of the work! Simply typing the number "1" into the text field and selecting Ok will replace the orange text above with the number 1.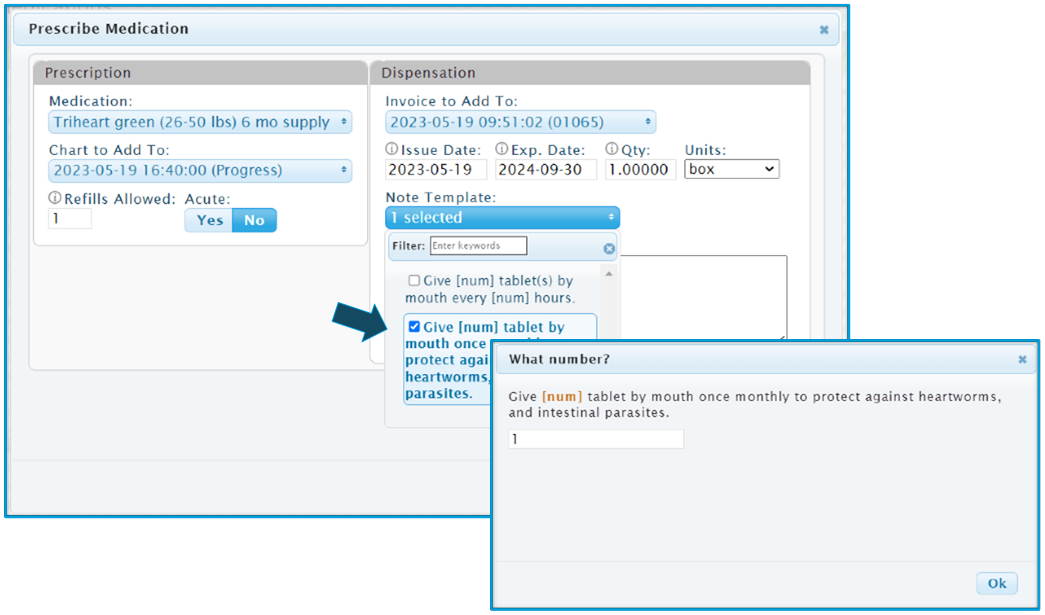 5. Once you've completed the template and returned to the prescription entry, select Ok in the lower right corner of the page to save and return to the main Medications page. For more information about dispensing medications and generating a prescription label, check out Choose Action: Logging a New Prescription and Integrations: Installing a DYMO Label Printer.
Helpful Tip:
For assistance with creating medication templates, check out Management: Creating Medication Templates.