In situations where a patient has a record of vaccinations from a previous hospital, the steps below will ensure that an appropriate reminder is created, the vaccination is tracked in the patient record, and inventory counts remain unaffected.
Adding a Vaccine
1. From the Choose Action page, select the Vaccines icon.
2. Next, select the Add Vaccines button in the upper right corner of the page.
3. From the Vaccine drop-down menu, select the appropriate vaccine, and leave the Dosage quantity 1. Then, deselect all other fields except for Date Administered. Add the Date Administered date and select Save Item when finished.

Important Note: You will need to manually add the appropriate reminder in the Reminders icon (see below).
Adding a Vaccination Reminder
To manually add a vaccination reminder:
1. From the Patient Reserve, Choose Action, or the Patient Dashboard, select the Reminders icon or widget.
2. Select the (+) button in the upper right corner of the widget, and enter a historical vaccine in the Description field.
3. From the Delay drop-down menu, select the appropriate interval for the vaccination. For example, if this was a Influenza Vaccine due annually, select 1-year delay.
4. In the Start Date field, type and/or select the vaccination's administration date.
5. Select Ok when finished to save this entry. Repeat steps 2-5 for as many reminders as needed.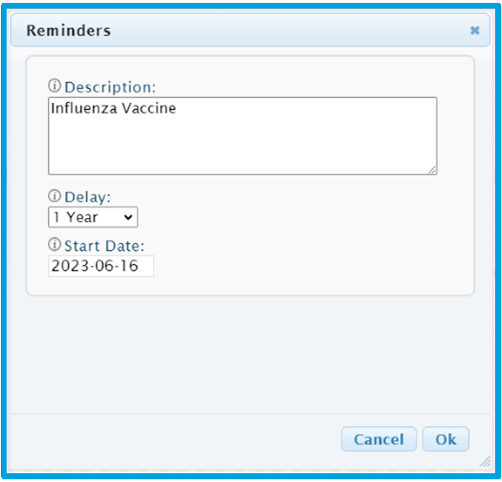 6. When you return to the main reminders page, your reminder will be displayed with the appropriate reminder date.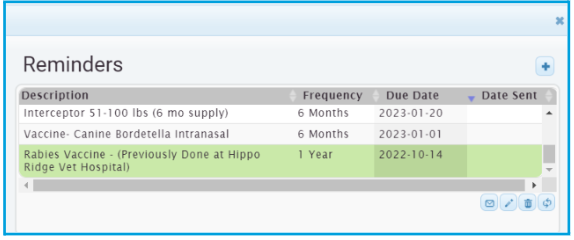 Helpful Tip:
The vaccine history from another hospital can also be uploaded in the patient's Documents folder for later referencing when needed. Choose Action: Uploading Records to the Documents Folder.