In situations where a patient has a record of vaccinations from a different veterinarian, the steps below will ensure that an appropriate reminder is created, the vaccination is tracked in the patient record, and inventory counts remain unaffected.
How to Record a Vaccine Administered at a Previous Clinic:
From the Choose Action or the Patient Dashboard page, click on the Reminders widget.

Click on the plus sign in the upper right corner of that window, and enter a historical vaccine in the Description field.

As an additional option, you may add the previous clinic's name in the Description field so that one can easily recognize if a vaccine was given at your hospital (pictured below).

Click on the Start Date field, and populate the date from the calendar that it was administered. Click the Delay dropdown, and select the duration for the next reminder.

Click Ok when finished.

Repeat steps 2-4 for as many reminders as needed.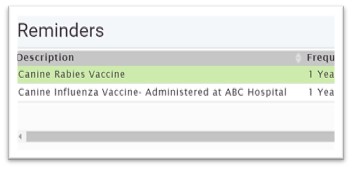 Helpful Hint:
For assistance with adding vaccines to the patient record given at your hospital, check out the "Recording a Vaccine Administered at Your Clinic" article.