Creating A Deposit Code
1. From the Administration tab, click the Items and Services widget/icon.
2. Click Create New Item in the upper right corner of the screen and fill out the following sections:
Item Definition
Name:

Type desired name of the Deposit code (Example,

Surgery Deposit)
UPC: Skip
Type:

Select

Account Credit

from the dropdown menu.

Location:

Select the location(s) you wish for this discount item to be available in.

Account:

Skip

Category:

Secondary Item Identifier (Useful for Reporting) To customize, check out the

Creating Custom Categories

article.

Description Box

and

Allow Alt Description

allow for additional notes to appear on the invoice.

(Skip if not applicable)
Item Behavior- Skip
Item Pricing- Skip
Reminders- Skip
Inventory Control- Skip
Miscellaneous- Skip
3. Click Save Item when finished.
Applying a Deposit Code on a Owner's Account
1. Find the open invoice through the Checkout tab.
2. Within the Find/Scan search bar, type the Deposit Code that was created above, select it from the dropdown, and click Add Item.

3. Click the pencil/edit to the right of the line item, and add the deposit amount to the Price field. Then click the checkmark to save changes.

4. Finally, process the owner's payment by selecting the Payment Type followed by Add Payment found in the lower right corner of your screen. Confirm details in the Slideout menu for the amount tendered, and then click Add Payment once more to process.
5. After you've processed the card, click Complete Sale to generate a receipt. The deposit will display as a negative in the Patient Reserve to indicate there is a credit now on the account.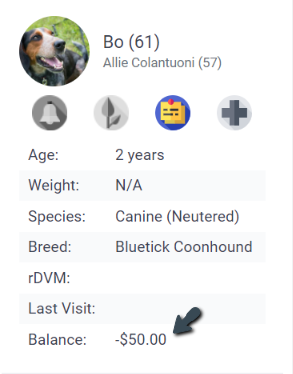 Processing an Invoice Payment using Deposit Codes
1. Find the open invoice through the Checkout tab, and add all desired invoice items.
2. Once the invoice is ready to be processed, select Account Credit under the Payment Type section in the lower right corner of the Register screen, select from the slideout menu and click Add Payment.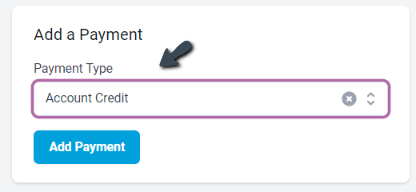 3. Within the slideout, select the Account Credit and then click Add Payment once more to apply the payment type.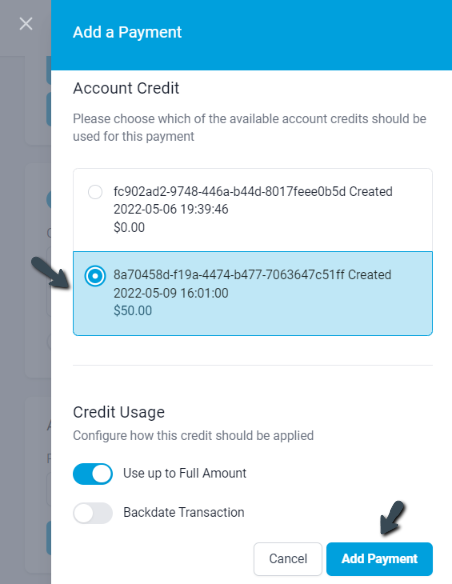 3. If there's a remaining balance on the invoice after the deposit has been applied, select another payment type from the Payment Type dropdown, and follow the steps on the screen to process the second payment. Once the balance is $0.00, click Complete Invoice to generate a receipt.