If your inventory quantities become off, they can easily be corrected within Hippo Manager's Inventory Management.
1. Click the Administration tab, and select the Items and Services widget.
2. In the Item field, type the medication or product you need to correct and click Update Quantity.
3. Find the entry with your current lot number and expiration date, and then click Edit.
4. In the inventory Add/Subtract section, type the correction amount. Use a negative in front of the quantity if adjusting down, and the Resulting Quantity will automatically calculate the new total on hand. The comments boxes are an optional field that can be used to assist with cross-referencing as needed.
5. When finished, click Update Quantity, and the adjusted quantity will update on the main Item Inventory Edit page.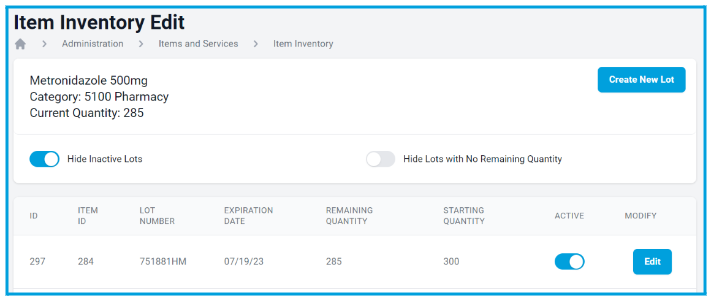 Helpful Tip
For assistance with inventory receiving, or updating lot numbers or expiration dates, check out Management - Performing a Receiving Entry & Management - Updating Inventory Lot Numbers & Expiration Dates