If an item or service code is accidentally removed from your inventory management, it can easily be recovered!
Recovering a Previously Deleted Item or Service
1. Select the Administration tab, and then select the Undelete Items widget.
2. Within the Item field, select the item from the dropdown that you wish to recover.
Pro Tip: In the dropdown text field that says Filter Options.. by selecting this field, you can type the item name to narrow the list of available options to choose from.
3. Once you've selected the item or service you wish to recover, select Recover Item.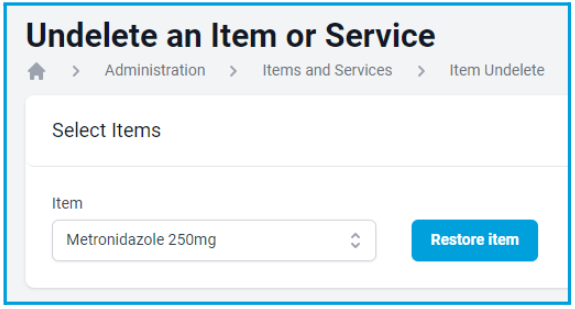 4. Now when you return to the Items and Services widget through the Administration tab the newly recovered item should be available once again.
Helpful Tip
For assistance with creating and editing item or service codes in Hippo Manager, check out Administration: Creating and Editing Inventory Codes